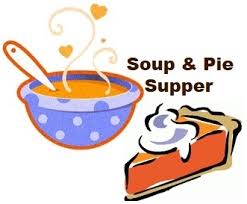 Women's Soup Night
Monday, January 21st at 6pm
Join us for our annual soup night. A night of fun and fellowship along with homemade soup and pies!
This year we are featuring local author Lori Roeleveld. Bring a friend or two or three to join in a warm night of soup and pie and a great presentation on the topic of "What We Need to Forget to Live Well Right Now".. You don't want to miss it!
Bring your girlfriends for a fun night out food, fellowship and FUN!
Please sign up in the foyer, call or email if you are planning to attend!
We look forward to seeing you at this great event!
Sponsored by
The Women's Ministry Team
First Baptist Church of Narragansett
305 Kingstown Rd. Narragansett, RI 02882
Phone: (401) 783-2792 Email: officefbcn@gmail.com