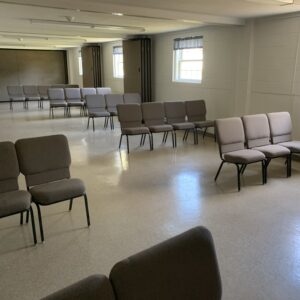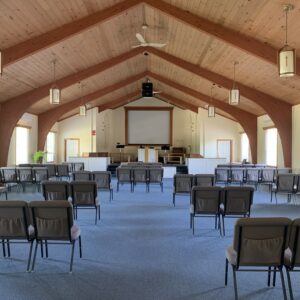 FIRST BAPTIST CHURCH OF NARRAGANSETT DATE: June 1, 2020
Narragansett, RI
SUBJECT PANDEMIC RESPONSE POLICY
PURPOSE AND SCOPE
To establish criteria for safe activity in the use of Church Building that are in alignment with CDC (Center for Disease Control/Prevention) guidelines and Rhode Island Department of Health (RIDOH) directives during the COVID-19 state of emergency.
POLICY
The First Baptist Church of Narragansett as a Covered Entity is committed to ensuring the public safety of our members and visitors when attending services and other events in the church building.
RESPONSIBILITIES
It is the responsibility of the church leaders and designated Reopening Team members to initiate, review, approve and execute expected procedures as per the RIDOH guidelines.
PHASED OPENING
Phase 1: Religious ceremonies limited to 5 or fewer (with staff included in the 5-person cap). Exception for funerals limited to 10 or fewer (with staff not included).
Phase 2: Houses of worship may reopen at up to 25% capacity with restrictions as of June 1
Phase 3: TBD
PROCEDURES FOR ENTERING/EXITING
A. UNIVERSAL PRACTICES
1.
Approved posters will be place at entry points; posters include education to required social distancing, use of cloth face-masks, and other topics as stated through this policy.
2.
Larger poster to be placed outdoors on sidewalk (weather-permitting) for those arriving to self-screen by reviewing list of COVID_19 symptoms and possible exposures. Each individual to be asked if they screened themselves; and names/contact information to be added to daily attendance roster in the event of future tracing needed.
3.
Hand sanitizer stations will be located at entry points
4.
All individuals in the church building shall wear a CLOTH FACE COVERING when in entrances/exits, reception/lobby, hallways, bathrooms, stairways and any common areas that preclude continuous and measurable distancing from others. A small quantity of disposable masks will be available for those arriving without one.
5.
The only allowable exceptions to cloth face coverings are:
a. Anyone for whom use of such face covering would damage his/her physical or mental health
b. When the face covering would inhibit any activity of daily living such as eating
c. In outdoor settings where people can easily and continuously maintain at least 6-feet of distance.
6.
Procedures for screening of individuals entering the church building include:
a. Self-screening for symptoms of COVID-19 by self-review of COVID symptoms and answering the following questions:
i. "Have you had any contact in the last fourteen (14) days with other individuals who are COVID-19 positive or who have had COVID-19 symptoms?"ii. "Do you have any COVID symptoms today?"
b. The names of each person arriving shall be added to an attendance sheet in the event of future case investigation which includes contact tracing, isolation, and quarantine of those exposed to any newly identified COVID-positive persons.
c. Posted signage at the entrances will include symptoms of the virus
d. Communication to church members will state expectations for staying home if any COVID-19 symptoms are present
e. Procedures for CLEANING AND DECONTAMINATION OF SURFACES (see section C)
B. SOCIAL DISTANCING
, also known as physical distancing, means the practice of keeping space between oneself and others when outside the home in order to restrict the spread of infectious disease. This involves:
1.
Staying at least six (6) feet from people, outside the same household, to prevent direct contact with any droplets from another's coughing, sneezing, or talking.
This will be achieved by:
a. Labelling 6-foot increments in the church lobby
b. Ushers will move arriving people directly into sanctuary to avoid gathering in lobby; and dismiss exiting persons from back to front using the 6-foot markers
c. Arranging chair groupings to accommodate seating families together and other chairs spread out at 6-foot intervals
d. Overflow seating will be available in the basement open space if attendance numbers exceed recommendations (service steaming available)
e. Eliminate refreshment station in rear of sanctuary after services.
Maximum number of persons allowed at each service will follow RIDOH current guidelines.

C. CLEANING AND DECONTAMINATION OF SURFACES
1. Covered entities shall ensure the performance of environmental cleaning once per day of use.
2. Include commonly touched surfaces such as door handles, railings, light switches, remote controls, bathrooms, chairs (in between multiple services)
3. Use products approved by CDC and labelled "for use against SARS-CoV-2"; alternative is solution of 1/3 cup of Bleach->1 Gallon water.
4. Maintain records documenting the date, time, location, and procedures for cleaning activities.

D. SHARED MATERIALS
1. Collection/donation plates will not be passed. Receptacles will be available in the back of the church as attendees exit the double doors. Encourage attendees to use online donations or checks, avoiding cash.
2. Communion: individually packaged cup/bread units will be made available and will be offered to those participating by gloved passers.
3. There will be no refreshment station. Attendees may bring own beverage bottles/cups, and must carry the container out when they exit the building.
4. Bulletins will continue to be emailed and displayed on entry/exit screen displays. One paper copy will be placed on each chair prior to the start of the service.
E. NURSERY/CHILDREN'S CHURCH
1.
Children's church will remain suspended through the summer
2.
Nursery room can be used by individual parents/guardians that will remain with their children (monitor available for viewing service). Only a small number of toys will be available. Parents will be informed to bring drinks, snacks, and toys for their child to use. Drink cups, toys etc. must be carried out by each parent daily.