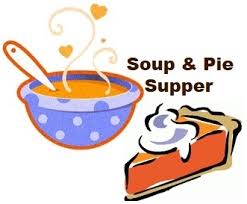 L
ADIES SOUP NIGHT
If you missed out on Jingle Mingle….
we wish to announce our
Annual Soup Night:the Pandemic version.
YES, we are still moving forward with Soup Night this year despite it looking a bit different.
We would LOVE to 'see' you all on our Zoom version.
There's no way 100 wonderful ladies could safely gather in person in January. Sorry!
Plans are in motion so get out your recipes and plan to make a pot to 'share' with us.
It is scheduled (as usual) for the Monday, January 18th at 6PM.
We have a guest speaker that will share her story with us in our years of
stories: Lori Roeleveld.
For Zoom Link Infor Contact the church office OR
Karen Smith at: klsmith627@gmail.com
Don't' Miss Out!!
Sponsored by
The Women's Ministry Team
First Baptist Church of Narragansett
305 Kingstown Rd. Narragansett, RI 02882
Phone: (401) 783-2792 Email: officefbcn@gmail.com